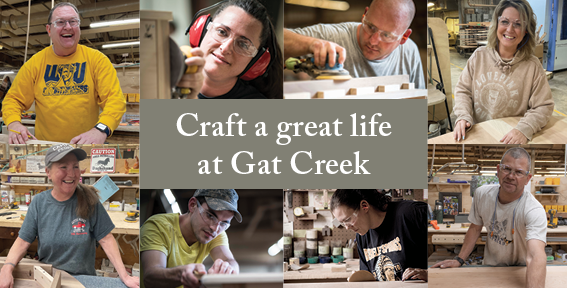 What Our Team Members Share
We are always on the lookout for dependable people who want to join our team of artisans. We proudly make some of America's most beautiful wood furniture that our customers cherish for generations. We are serious about creating great careers and good lives for our employees. Interested in learning more? Email us anytime: jobs@gatcreek.com
Professionalism

Factory experience is helpful but not a requirement. For those who bring a professional attitude — punctuality, pride in their work — we will invest the time and resources to help you learn, grow and advance in the company.

Team-Oriented

We rely on one another to build beautiful wood furniture. Each person's contribution is important and that requires us to take our job responsibilities seriously, deliver on time, and to offer help wherever it's needed.

Respectful

We have made a great effort to ensure that our workplace is respectful and inclusive. The diverse team at Gat Creek is one of our company's finest attributes. We expect all employees to be considerate with each other, our customers and vendors.
Gat Creek Benefits
Stable employment in an established, growing and profitable company
Experience within a premier American-made wood furniture manufacturer
Family friendly hours: single shift M-F, 6 A.M. - 2:30 P. M.
Team-oriented work environment
Full time work with paid holidays, paid vacation, paid personal time
Generous benefits: health, dental and vision insurance; paid vacation and holidays; 401(k) with employer match
Frequently Asked Questions
Where are we located?

We are five miles south of downtown Berkeley Springs.
Alternate hours?

Limited positions are available on a second shift and part-time is possible.
More info about pay?

We offer the potential to move up with performance.
Do I need any experience?

It helps. Being familiar with factory work always helps but it is not necessary.
When does health insurance start?

Insurance benefits are available on the first of the month after 30 days on the job.
Dress or equipment requirements?

No need to provide any equipment - we provide the personal gear and tools you need to do the job.
Do I have to pass a drug screening?

Yes.